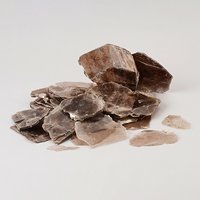 Black Spotted Mica Scrap
Product Description
Black Spotted Mica Scrap is extracted from the leading mines of the country to ensure maximum purity and natural features. This is processed from modern technology machines to ensure high tensile strength, rust proof surface and excellent insulation properties. In addition, it is also available with excellent refractive and dielectric strength.

Features of Black Spotted Mica Scrap:

Ideal to develop mica flakes and powder
Light in weight with high purity
Highly durable and strong
Available with high melting point
Mica Scrap is obtained from Mica Mines, it is basically a Mica that is below specifications and not suitable for use as sheet mica, because of size or quality.
It is screened over 1/2" sq. inches openings and have an average size between 12 mm – 50 mm with thickness between 0.15 mm – 5 mm.
Mica Scrap should be cleaned, dried, hard, free from mineral and non-mineral impurities, such as: Quartz, felspar, garnet, tourmaline, stones, mud-stained or biotite mica, clay, send as well as other inclusions viz; paper, wood-leaves, straw, iron contents etc.
Uses
: Mica Scrap is now mainly used for manufacturing of mica paper which is used to make mica sheets/plates and mica tapes.
The below types of Muscovite Mica Scrap are produced and exported by us throughout the world.
a. Ruby Mica Scrap (high test) - Calcine mica paper for high voltage mica tapes.
b. Ruby Mica Scrap - Spotless mica paper for mica tapes.
c. Green Mica Scrap - Spotless mica paper
d. Super white mica scrap - spotless mica paper
e. Spotted Mica scrap (Green/Ruby) - spotted mica paper for mica sheets/plates
Packaging
: We export mica scrap in strong HDPE Bags weighing 50 kgs each.
Contact Us
27, Brabourne Road, Narayani Building 6th floor, Room - 608, Kolkata, West Bengal, 700001, India
Phone :+918068091865